Despite the presidential election being more than two years away, local media outlets have taken note of the evolving dynamics among Indonesia's political elite. Things are looking particularly interesting for Central Java Governor Ganjar Pranowo, who rose to prominence in the polls. He is by far the most popular candidate belonging to the most popular party, PDI-P. So much so, in fact, that the most recent poll by SMRC (Saiful Mujani Research and Consulting) found that his performance is almost on par with that of Defense Minister and two-time presidential candidate Prabowo Subianto.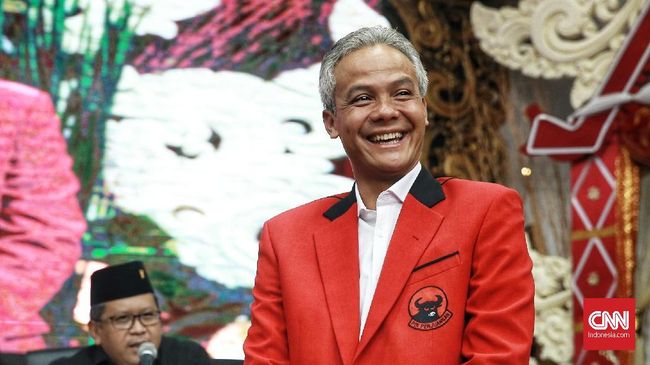 We can see this by looking at recent polling. As an in-person poll, SMRC's survey results lends itself credibility compared to certain others that are conducted via telephone, as this would automatically exclude some lower-income survey participants. Below is the results of their surveys from 15-21 September 2021 based on a sample of 1220 respondents:
SMRC Poll Results (September 2021)
On top of his existing renown, Ganjar's popularity still has ample potential to grow. SMRC's most recent survey suggests even more potential in favor of Ganjar — the governor's name recognition is still relatively low in the public eye compared to more popular candidates such as Prabowo and Jakarta Governor Anies Baswedan. In September 2021, Ganjar's name recognition among survey respondents was at 66% compared to Prabowo with 98% and Anies at 85%.
Name Recognition of Popular Presidential Candidates
Ganjar vs PDI-P?
Despite his evergrowing popularity, Ganjar's standing within his own party, PDI-P, looks to be increasingly bleak. While Ganjar has not left the party just yet, relations between the party's Chair, Megawati, and Ganjar have grown colder over the past year. Megawati was quoted making indirect comments coaxing PDI-P members to focus on their governmental duties rather than campaigning for the election, which many view was a snide remark at Ganjar. Back in May, Megawati's daughter, Puan Maharani, even went further as to not invite the Central Java Governor to a party meeting in Semarang — the capital of the province he governs.
Megawati instead seems set on making Puan a candidate in the 2024 Presidential Election. As per Indonesian law, only a political party is allowed to nominate someone as a candidate. However, Puan's poor performance in the polls means that it is highly unlikely that she would be put forward as a presidential candidate. Instead, she will most likely be paired with Prabowo — Chairman of the Gerindra Party — as his vice president, and there is ample reason to believe that their partnership would not be completely out of the question.
Behind the Megawati-Prabowo Partnership
The pair has laid the groundwork for a potential run in 2024 since way back in 2019. In an event dubbed by the media as Politik Nasi Goreng or Fried Rice Politics, Megawati was spotted having dinner with Prabowo shortly after Prabowo's defeat in 2019 against Jokowi, a candidate from Megawati's own party. Some observers believe that the event was an early signal of the direction of Indonesian politics in 2024. Furthermore, they already share some history together as Megawati and Prabowo ran together in the 2009 election, with the latter as the vice presidential candidate.
A question one would naturally ask is: why in the world is Megawati so adamant on pushing her daughter as candidate instead of the more popular choice, Ganjar? This could be motivated by Megawati's desire to preserve the existing status quo among the political elite as well as her family's influence within the party. According to the SMRC, around 2.5 years prior to the 2014 election, the leading candidates in the polls were actually Megawati and Prabowo. However, President Jokowi's electability rose shortly after, becoming PDI-P's selected candidate, and the rest is history. In that context, Megawati's actions could be viewed as a way to safeguard the family from history repeating itself.
You can read more about SMRC's findings here (please note that the document is in Bahasa Indonesia).